UNAWATUNA BEACH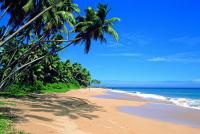 Unawatuna is a coastal town in Galle district of Sri Lanka. Unawatuna is a major tourist attraction in Sri Lanka and famous for its beautiful beach and corals. It is a suburb of Galle city which is situated about 5 km southeast to the city center.

Underwater expeditions among corals and school of fish can be arranged with activities such as windsurfing, snorkeling and scuba diving to truly make your visit a more special time. The mythology surrounding Unawatuna dates back to the Ramayana times. The monkey-warrior, Hanuman was sent back to India to fetch four rare medicinal herbs from the Himalayas to heal Lakshman who was wounded trying to save Princess Sita, abducted by the Demon King Ravana. Hanuman, not being able to identify the herbs, lifted the entire part of the mountain where the herbs were supposed to grow and carried it to the battlefield trying to save Lakshman. A chunk fell down in the location of present day Unawatuna and the name villagers gave was 'Una-watuna' meaning 'fell down'.
There is also a major magnetic anomaly near, which Arthur C. Clarke attributes to a meteorite strike, and it is said that satellites lose their orbits with unusual frequency overhead.