MULKIRIGALA TEMPLE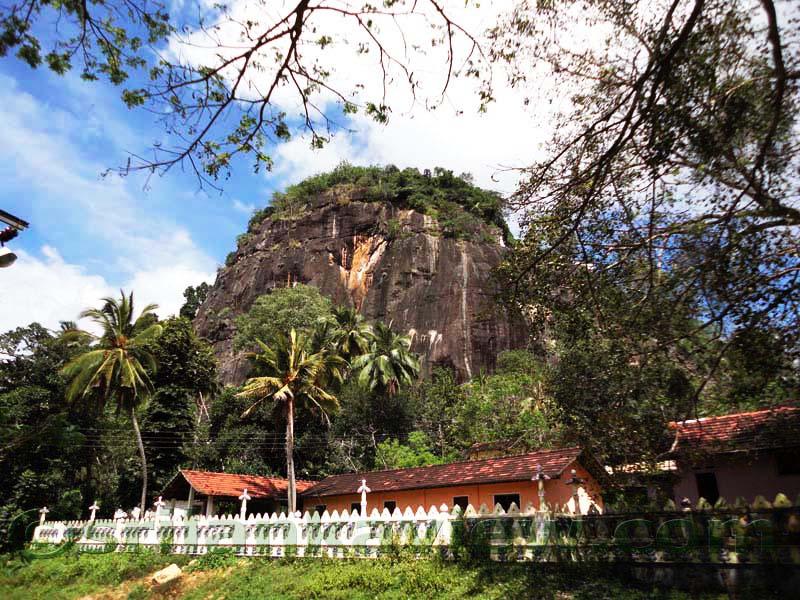 The most imposing rock temple in the south of the island is situated on an isolated rock 210m high, rising almost vertically from the surrounding forest. Terraces are found across the sloped southern side of this rock, where cave temples nestle beneath ledges of overhanging rock. The ancient origins of this temple are unclear, but it is learned from Brahmi scriptures carved into the rock that this has been the site of a Buddhist monastery for millennia. The general belief is that Mulgirigalla Vihara was founded around 130 BC and has been a place of tranquillity and sanctity ever since.

Mulkirigala Rock Temple or the Raja Maha Viharaya can be reached coming along Beliatta -Weeraketiya main road and turning off at Mulkirigala Junction. The temple is situated 2 kM from the Mulkirigala Junction. One can reach Beliatta Town from either Dikwella or Tangalla.

The Rock of Mulkirigala rises about 676 feet from the surrounding land mass. There are seven cave temples situated in five Terraced areas of different altitudes. They are the Lower Terrace (Patha Maluwa), Bo Tree Terrace ( Bodhi Maluwa). Great King's Temple Terrace ( Raja Maha Vihara Maluwa), Upper Bo Tree Terrace (Uda Bodhi Maluwa) and Chetiya Terrace (Chaitya Maluwa). These terraces can be accessed comfortably through well paved granite paths and steps going right upto the Dagoba Terrace.

The Cave temples numbering seven consists of Reclined Buddha , Seated Buddha and Standing Buddha Images, paintings of Buddhas, Arhaths, Gods and Jataka Stories.