Jeep Safaris in Yala National Park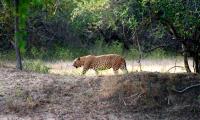 Our tailor made Yala game drives offer half day safaris spanning 03 – 04 hours and a full day safari spanning 10 – 12 hours, are designed to make you experience the real spirit of Yala national park.
Our knowledgeable and disciplined drivers will arrange everything from the moment they pick you up at no additional charge from your hotel.
Let them worry about purchasing tickets, best tracks to traverse along with wildlife department tracker and your meals, while all you have to do is enjoy a hassle free safari from 6 am to 6 pm, one among many reasons to pre-book your safari.